Oakfields alumni gets her work published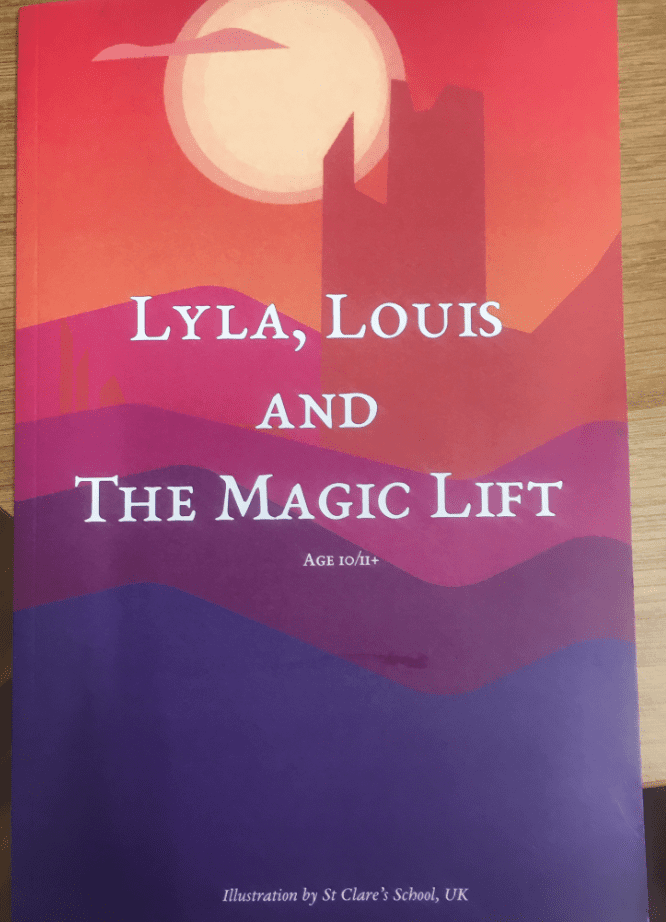 OAKFIELDS MONTESSORI SCHOOL /YEAR 6 BECOME PUBLISHED AUTHORS AS PART OF GLOBAL STORY WRITING INITIATIVE
Upminster, 6 March 2020: Students from Oakfields can see their work published from the 5th March as part of a global project involving over 50 Cognita schools in Asia, Europe and Latin America. Hundreds of children have collaborated to create Lyla, Louis and the Magic Lift – a unique and fantastical book aimed at 10 and 11-year-olds, which has been released to mark World Book Day.
This is the second year that Cognita has run the grassroots Share A Story project – bringing together students over three continents to write an epic adventure in English and Spanish. This year, celebrated children's authors Anne Fine and Jeremy Strong are supporting the project;
"Such an appealing idea – young writers reaching across continents to create and share a story. And just as the tale itself has to hang together, so it also connects dozens of schools from all over the world. A terrifically ambitious project!"
Anne Fine, former Children's Laureate & best-selling children's author
"What an extraordinary story! Here is a terrific example of cross-cultural cooperation with children from over 50 schools uniting in the writing, illustrating and translating. What a story it is too, with unicorns, dragons (one of them part chameleon!), mermen, trolls, not to mention poor long-suffering PE master, Mr Longsocks. It's a delight to read and I congratulate all who have taken part. Let's have more!"
Jeremy Strong, best-selling children's author
This year's book is a wonderful mythical story which takes siblings Lyla and Louis, and their PE teacher, Mr Longsocks, on a thrilling journey where they meet the most extraordinary creatures; from raging alicorns to angel llamas! Our protagonists tackle cloud worlds, dastardly dwarves and spooky caves, to learn a valuable lesson in self-belief, courage and love.
"Well done to Adiel (former Year 6 pupil) for all her hard work in creating an imaginative chapter for the Cognita Share a Story II. It is an amazing achievement to have been selected to create a chapter for a book which will be read by people from different countries across the world. You should feel extremely proud of yourself. I particularly liked Adiel's choice of vocabulary which gripped the readers' interest and for her clever application of anagrams. Keep up the fantastic writing!"
Miss Gowing, Oakfields Montessori School English Lead
Teams of children from dozens of Cognita schools were involved in writing the book – with each school taking on a chapter or illustration before passing it on to the next team. Over 10 schools also tackled the job of translating the story into Spanish.
The Share A Story II project was co-ordinated by Cognita teaching staff member, Joe Woodhouse, from the British School of Barcelona in Spain; "We set the children a specific challenge this year; to write a story with 'wellbeing' at its heart. We wanted the main characters to have physical or cognitive differences which can often be seen as obstacles, and then radically change readers' perceptions by making these differences the superpowers that helped the characters overcome the problems they faced. Our hope is that in turn, it teaches us all to celebrate our differences more. We're so proud of the wonderful story they have produced."
The illustrations were co-ordinated by Christina Harrow at the Australian International School in Singapore and the translations by Nicole Ford at The English Montessori School in Madrid, Spain. The team also had expert illustration advice from award-winning illustrator and author, Karin Littlewood.
"Illustration is such a powerful, universal language and its visual impact is just as important as the written word. When the day came for the final judging, I was so excited to see the illustrations – they were amazing! Wonderful, imaginative and strong, from different countries, cultures, schools and year groups, drawn and painted with thought, skill and a huge dose of enjoyment shining through. I can't wait to hold the final book in my hands!"
Karin Littlewood, award winning illustrator and author
The book will be available to download free of charge on the Cognita website at https://www.cognita.com/news
Published on: 6th March 2020